Alberta LETR officers shine light on athletes at 2019 World Games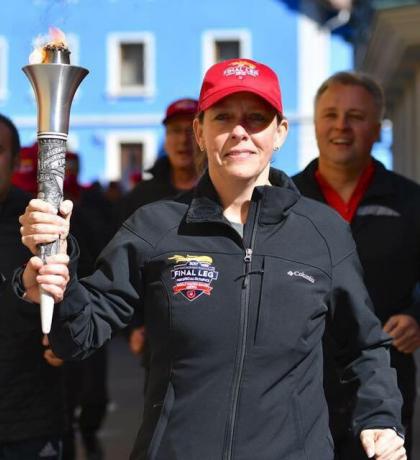 The Flame of Hope unites communities from around the globe and this year the torch is shining a light on the United Arab Emirates as 100 Law Enforcement Torch Run (LETR) officers make the Final Leg Torch Run on the way to the 2019 Special Olympics World Summer Games.
On March 3, LETR torch runners from many different countries began the Final Leg journey, which will raise awareness for the World Games, culminating at the Opening Ceremonies on March 14.
Among the runners are two Alberta LETR members: Sr. Cst. Mat Champagne of the Taber Police Service and Sgt. Katrina O'Reilly of the Calgary Police Service.
Kat has been involved with LETR for 22 years and also coaches novice softball for Special Olympics Alberta-Calgary.
While she enjoys all the LETR events, Kat said that her favourite is the torch run, adding that there is no feeling like carrying the torch into local events, Provincials, or Worlds.
"It is a pretty amazing moment when the athletes are cheering and anticipating the moment that their Olympics are about to begin," Kat said. "It is pretty impactful."
For Kat, this is not her first time carrying the torch at a World Games as she was selected as one of the Final Leg officers for the 2017 Special Olympics World Winter Games in Austria.
"IT WAS AMAZING AND IT WAS SO WONDERFUL FOR ME TO SEE A NUMBER OF MY ATHLETES THAT I COACH PARTICIPATING IN WINTER SPORTS AND SEEING THEM AT OPENING CEREMONIES AND OF COURSE BRINGING THE TORCH IN IT WAS A SPECTACULAR LIFE EXPERIENCE FOR ME," KAT SAID.
This year Kat will serve as one of 10 team leaders, leading a team of officers from places like Australia, Latvia, and many more.
"[I'm] surprised and truly very honoured and excited and never thought this opportunity would present itself again to me, but here I am," Kat said.
As far as favourite torch run moments go, Kat added that her group brought the torch into the Opening Ceremonies in Austria.We were in our full dress uniforms and we are lining the pathway as all the athletes from around the world are arriving and the excitement and that moment was just super cool. It was like a full show broadcasted on ESPN, so I would say that it kinda came full circle at that moment because torch runs that we do all around the world [and] coaching that we do it was pretty cool.
Tomorrow our torch runners will carry the Flame of Hope into the Zayed Sports City arena and officially start the Special Olympics."CANADA IS CHEERING FOR YOU AND I REALLY HOPE THAT I GET TO SEE PARTICULARLY OUR ALBERTA ATHLETES WHILE I AM THERE, PROBABLY AT OPENING CEREMONIES," KAT SAID. "I WILL BE CHEERING VERY LOUDLY AND I DID GO TO THE DOLLAR STORE TO GET A COUPLE OF CANADIAN FLAGS SO I WILL BE WAVING THEM IN THE CROWD."
Not only are LETR members Guardians of the Flame, but they are also champions of inclusion and pillars of support for Special Olympics athletes.
Many of them coach in their communities, some act as officials, and Cst. Amanda Trenchard does all of the above.
Amanda has been involved with SOA for 21 years coaching soccer and acting as a snowshoe coach in Edmonton for 5 years as well.
In 2008 Amanda joined Alberta LETR and has been a catalyst for events in the area ever since.
"THE ATHLETES," AMANDA SAID ON WHAT MOTIVATES HER TO BE INVOLVED. "WHEN YOU SEE THEIR SUCCESS AND YOU SEE THE BENEFITS AND HOW MUCH THEY GROW FROM IT THAT IS WHY WE DO IT."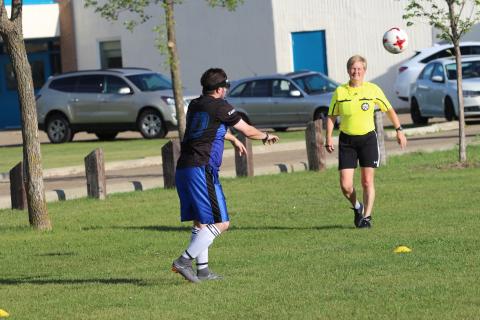 Amanda will serve as a soccer official at the World Games in Abu Dhabi. She added that this will be her fourth time officiating at Worlds, having previously refereed in China, Greece, and Los Angeles.
"The levels of play are unbelievable," Amanda said. "When you ref it is just like going out there and refereeing anyone else, but there is a huge difference. There is sportsmanship."
She stated that the athletes are so respectful and that she admires the way the athletes treat each other, as well as the referees.
When asked about her favourite moment from refereeing at Worlds, she stated that there was a moment in Greece after divisioning.
Amanda shared a story about all the athletes, coaches, officials, and volunteers waiting for the team busses to arrive when someone turned on the music in the stadium. Everyone started dancing and having fun and even started a conga line of over 200 people going around the stadium.
What stood out to Amanda was that language was not a barrier to comradery and that athletes could share this experience with other athletes from around the world without necessarily being able to communicate with each other.
Amanda said that language barriers is something that officials deal with as well, but advocated that it is something that she has learned to deal with.
"We have learned a way through signal and gesture to get through the game and for them to understand where I am coming from and that goes both ways," said Amanda.
While she loves officiating, Amanda said that her goal is to take her soccer team to Worlds as a coach, but for now she is thrilled to once again see some incredible competition and sportsmanship in Abu Dhabi.
Check out the schedule at TSN to find out how you can watch!