Athlete Spotlight: Jaclyn Zimmerman – Edmonton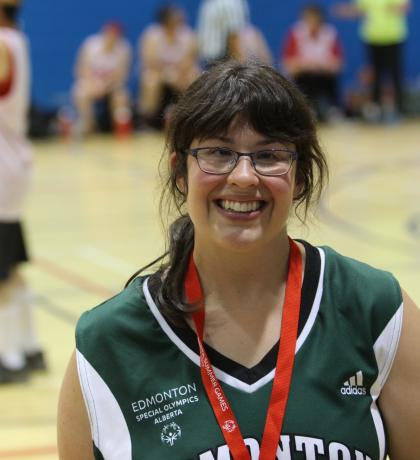 Athletes came together on July 7-9 from across Alberta and the Northwest Territories to compete in the 2017 Special Olympics Alberta Summer Games in Medicine Hat.
One of those inspiring athletes who completed the journey to Medicine Hat was Jaclyn Zimmerman who competed in basketball for Edmonton 2.
Zimmerman is no stranger to the Provincial Games stage as she had previously competed in 2009 in athletics and 2013 in basketball.
She began playing basketball in 2010 as she was a fan who enjoyed watching it on TV and decided that she wanted to try playing herself.
Edmonton 2 played well throughout the weekend and came away with silver medals after a strongly contested Pool D final."I LIKE PLAYING DEFENSE AND TAKING THE BALL AWAY." – ZIMMERMAN ON HER FAVOURITE ASPECT OF PLAYING BASKETBALL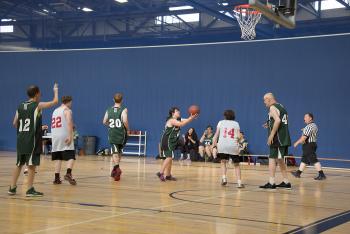 Zimmerman attributes the accomplishments of Edmonton 2 to her hard-working coaches and teammates stating "I think [my teammates] played really good," adding that "my coaches are amazing."
Outside of basketball, Zimmerman enjoys running and playing with her two dogs – a border collie and a terrier schnauzer.
"I REALLY LIKE SPECIAL OLYMPICS. THE COACHES IMPROVE ME SO MUCH OVER THE YEARS." – JACLYN ZIMMERMAN
Zimmerman enjoyed Medicine Hat and stated that the Opening Ceremonies were a lot of fun. "I liked the band, the drums. They were really cool," said Zimmerman.
The only goal Zimmerman hoped to achieve at Games was for her and her Edmonton 2 teammates to play as a team and it's safe to say that they achieved that goal!