Bert Church Chargers Roll Their Way to History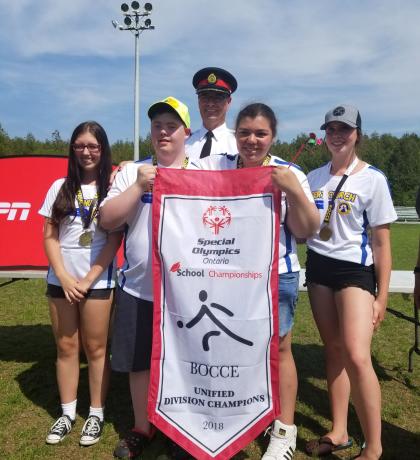 Being the first Unified Sports team from Alberta to compete at the Special Olympics Ontario School Championships wasn't enough for the Bert Church Chargers who rolled their way to a 6-4 victory in the gold-medal game and earned the squad an Ontario Provincial banner.
"IT WAS A FANTASTIC EXPERIENCE AND I AM REALLY GRATEFUL THAT FOR THE OPPORTUNITY TO REPRESENT OUR SCHOOL AND OUR PROVINCE ON THAT STAGE," SAID FERGUSON. "PLUS, WE BROUGHT HOME A BANNER. WE ARE PROBABLY THE FIRST SCHOOL [IN ALBERTA] TO WIN AN ONTARIO PROVINCIAL BANNER, WHICH IS COOL. I CAN'T IMAGINE ANYONE ELSE HAS EVER DONE THAT."
RESULTS FROM PETERBOROUGH
The team comprised of athletes, Noah Van Dewark and Ami Schaan; partners, Kendra Van Dewark and Emma Rockwell; and coaches, Ian Ferguson and Cynthia Dahl had a terrific tournament winning three of four round robin games, which earned the team a spot in the finals.
Ferguson stated that when they learned the news about making the finals the partners were really nervous, but found confidence in the athletes who kept their cool and calmed them down in preparation for the big match.
The Chargers squared off against the hometown squad in Peterborough in the finals and the match was close throughout with both teams taking the lead at some point.
The final frame saw the Chargers with a one point lead, but Peterborough had three balls closer before Kendra "iced the game," according to Ferguson, with a shot that connected with the pallina."IT WAS A WHOLE LOT OF NERVES BECAUSE THE OTHER TEAM'S WERE ALL SO CLOSE," SAID KENDRA. "THE BOY WHO THREW AFTER ME EVEN HIT MINE, BUT IT STAYED CLOSE."
Ultimately, the shot was just enough to get the Chargers the victory with a final score of six to four.
They are already excited about the possibility of defending their title in Toronto next year and are hoping to bring Kendra back as a coach after she graduates this year.
"Kendra was awesome with our group as a leader for our team, helping out, and making Ami feel comfortable," said Dahl.
BERT CHURCH PLAYS UNIFIED
The culture at Bert Church High School has always been supportive and inclusive, according to Ferguson, who advocates that Unified Sports was a perfect fit for the school and their students.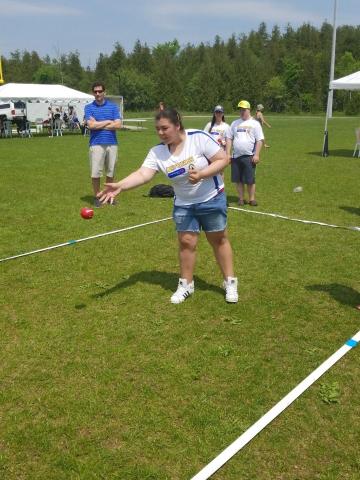 BCHS has taken the reigns and embraced Unified Sports in its school and has inspired other school in their district to implement the program and host tournaments themselves.
While Unified Sports has been received extremely well at BCHS, the program continues to evolve and grow. Interest from grade nine students skyrocketed this year with partners looking to get involved.
"IT JUST GREW THIS YEAR IN PARTICULAR WITH OUR GRADE NINE POPULATION," SAID DAHL. "MORE CAME OUT AND MORE WANTED TO BE INVOLVED AND WE THOUGHT THAT WAS SO COOL. WE'VE BEEN ABLE TO INVOLVE SOME OF THEM IN MORE OF THE UNIFIED SPORTS THAT WE HAVE HAD THIS YEAR AND WE KNOW IT WILL JUST GROW IF WE HAVE THAT GRADE NINE POPULATION."
Ferguson further emphasized the program's progression stating that they have excellent partner participation with students who are quite passionate about being involved.
The program boasts a mix of experience with athletes and partners ranging from grade nine through grade 12.
"The coolest thing for me actually, so Ami who is in grade eleven, next year as a grade twelve, she'll have played unified sports every year of her high school career," said Ferguson. "So she'll be one of the first in the province to have played Unified Sports for her entire high school tenure.
BCHS student partner Kendra Van Dewark has been involved with the program since its inception in 2016 and stated that the program has positively impacted the atmosphere in the school. She noted that many of the students at BCHS say hello to her brother now and have built relationships through getting involved or attending Unified events.
Looking ahead, Ferguson is excited for the future of Unified Sports in Alberta and believes that a large scale event, similar to the SOO School Championships, is achievable here."I WANT TO GO BEYOND WHAT WE ARE CURRENTLY DOING, BUT I HAVE SEEN THE POWER THAT OUR UNIFIED TEAM HAS IN OUR BUILDING AND I THINK EVERY SCHOOL WOULD BENEFIT," SAID FERGUSON. "WE HAD A FEW TEAMS FROM ONTARIO ASK IF WE WOULD HOST A TOURNAMENT AND INVITE THEM TO PLAY THERE."
For athletes, partners, and schools looking to get involved with Unified Sports look no further than the statements from the champions themselves.
"It is an amazing opportunity and you gain a whole bunch of new friends and new people that you get to meet," said Rockwell. "Overall it is just a good thing to take part in."
"Because they're fun and we make new friends too." – Ami Schaan on why athletes should #PlayUnified
"I would ask anyone who is on the fence to come to a Unified event and just come watch and tell me it's not the most fun they have had at a sporting event in a long time," said Ferguson. "Nobody ever leaves those events not having a good time. Win, lose, draw, spectator, participant, everybody always has a blast. If you can come out and honestly say that it doesn't have a place in your school then I would be pretty surprised."
SPECIAL OLYMPICS 50TH ANNIVERSARY
Today marks the one month countdown to the Special Olympics 50th Anniversary and the Global Day of Inclusion! As part of the celebration, Special Olympics is introducing its 5 year plan to end discrimination and create inclusive communities. Our athletes are up for the challenge. Are you? Be part of our #ChallengeAcceptedSOC movement. Learn more on our 50th Anniversary and Challnge Accepted.
Unified Sports is at the forefront of the transformative shift from inclusion through sport to athlete lead inclusion, including youth athletes. The next era for Special Olympics is dedicated to inspiring radical inclusion in the younger generation and Bert Church High School is certainly one of the leaders working towards this goal.
Live Unified. Play Unified.