Bringing Coaching to the Next Level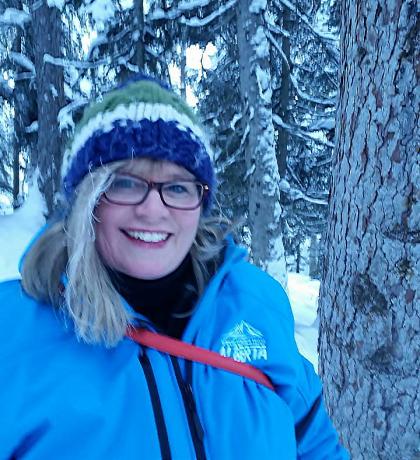 It is hard to imagine the progress of Special Olympics Alberta (SOA) over the past 28 years without Jodi Flanagan and her impact as a coach and volunteer.
As she entered the Shouldice Arena, at just 21-years-old, Jodi was not expecting the moment that would ultimately change her life.
Jodi was greeted at the rink by a speed-skating athlete who introduced himself and gave her a hug – a feeling that gave her an immediate sense of belonging.
"Any apprehension I may have had immediately melted away," said Jodi. "What I didn't fully recognize at that very moment would be how much I would come to be involved and the family that I would become a part of."
Flash forward 28 years and Jodi has become an integral part of the Special Olympics movement.
She currently holds multiple roles acting as the current Special Olympics Canada Master Coach Developer, a SOA Sport Council member, the SOA Floor Hockey Committee Chair, a Provincial Games volunteer, and Team Alberta selection committee member.
Jodi started with SOA-Calgary as a figure skating coach and was the head coach from 1990 – 2001. During that time the program grew from four athletes to 30.
Through her connections, Jodi created opportunities for the team including performances at the Rosebowl Western Canadian Synchronized competition, the International Skate Canada competition, and the National Synchronized Skating Championships, along with the Special Olympics Alberta Winter Games in Calgary.
"28 years since its inception, the team is still going and as far we know, the only Special Olympic team in Canada," said Jodi.
The skating program in Calgary evolved to a point where they were ready to compete in Special Olympics events and after exploring the rules, Jodi knew that updates were necessary.
She got involved with the sport at the provincial level – starting with taking on the role of Sport Technical Rep and sitting on the Provincial Program Council.
She began facilitating National Coaching Certification Program (NCCP) courses in 1997 and helping guide the development of programs, competitions, and coaches have become a passion for Jodi.
"I remember sitting with Dr. Frank [Hayden] at the National Winter Games speed skating event and we were both mesmerized [by] the skill and techniques of the athletes," said Jodi. "We said that as recently as four years prior, most of the speed skaters were skating upright and on hockey skates."
Staying involved has never been a question for Jodi who has embraced her various roles and has created a positive change in every position she has held.
"IN NEARLY 30 YEARS THERE HASN'T BEEN ONE YEAR WHERE MY PASSION FOR THE ATHLETES AND THIS ORGANIZATION HAS WAVERED," SAID JODI.
At some level, Jodi has been involved in Games (Provincial, National or World) since 1991; as a Head Coach, a Sport Manager, Team Manager, Chef de Mission, on the team selection committee or assisting the Games Organizing Committee and SOA on the sport operations.
"Participating at the National and World Games is a highlight in my life and is more rewarding with each opportunity," said Jodi. "I love seeing the athletes challenge themselves and [sharing] new experiences with them."
When asked about her goals, Jodi stated she is still dedicated to fostering growth and improvement for the Special Olympics movement.
She hopes to act as the Chef de Mission for a World Winter Games, sit on a National Games Organizing Committee (especially if it's Calgary), and be involved in a National coaching conference.
Jodi is excited about the next generation of coaches and her advice is to simply do it."I HIGHLY ENCOURAGE COACHES TO JOIN SPECIAL OLYMPICS FOR SO MANY REASONS," SAID JODI. "ONE, IT'S SO REWARDING – IT MAY START BY "GIVING BACK" TO YOUR COMMUNITY, BUT IT SOON BECOMES AS THERAPEUTIC FOR THE COACH, THE ATHLETE AND FAMILIES."
Her impact on the organization and the athletes is immeasurable and as Special Olympics enters a new chapter of global inclusion it is important to support the efforts of volunteers like Jodi Flanagan.
Help us raise awareness of our mission and we challenge you to shift the focus from disability to ability. You can spread the message with #ChallengeAcceptedSOC and #ChooseToInclude on social media.