Curious about Special Olympics? Register for Marathon of Sport, says Calgary coach and motionballer Tracy Le
To celebrate National Coaches Week Sept 19 to 27, we are thanking our 14,000 volunteer coaches across the country by sharing some of their inspiring stories. Their unwavering support helps Special Olympics athletes build the confidence, determination and strength to take on any challenge in sport – and in life.
Meet Special Olympics Alberta coach Tracy Le
When Special Olympics Alberta – Calgary coach Tracy Le wants to get someone involved in the movement, she invites them to motionball Marathon of Sport.
"I am very confident that anyone who attends a Marathon of Sport – it will be life-changing for them," Le said about the annual fundraising event that pairs teams with a Special Olympics athlete for a full day of sport and friendly competition. "You get to meet an athlete and hear about their story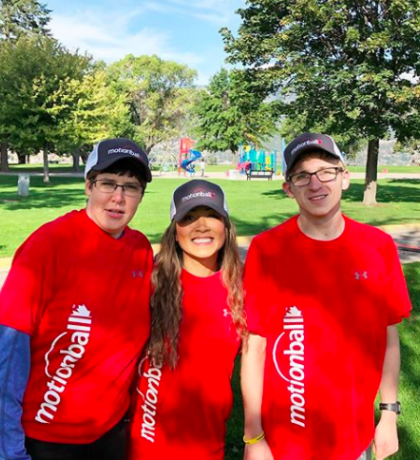 "It will sell you on why Special Olympics is so important."
After all, it was Le's first Marathon of Sport in 2015 that changed her life.
"It was just the best day," she said. "I've been hooked ever since."
Inspired by the event, she immediately signed up to join her local motionball committee and started volunteer coaching in her community the following year. She's still a committee member today and continues to coach the Calgary Thunderbirds floor hockey team.
While Marathon of Sport is a virtual event this year due to COVID-19, the Saturday September 26 event is very much the same. Teams – of any size – are paired with a Special Olympics athlete for an hour of virtual fitness lead by Olympian Tessa Virtue and other celebrity athletes including Toronto Maple Leafs defenseman Morgan Rielly, Olympic swimmer Penny Oleksiak, Canada's fastest man Aaron Brown and many more.
Le, of course, has already registered a team for the virtual event and hopes to get everyone together for the workout and a barbecue on Saturday, if safe to do so.
The past few months have been difficult with programs suspended, she said.
"Wednesday night floor hockey is the one day a week I look forward to," said Le. "The Thunderbirds are the absolute best."
One of her favourite Special Olympics memories was a weekend tournament – that happened to take place on her 30th birthday – when the Thunderbirds took home the gold medal.
"They won the whole weekend tournament – they were so happy," she said. "It was a great way to spend my birthday."
While she's kept in touch with the team through Facebook chat and phone calls, she's looking forward to the opportunity to spend some real – but physically distanced – time with motionballers and a Special Olympics athlete on September 26 for Marathon of Sport.
"THE THING ABOUT MOTIONBALL IS YOU FORGE ALL THESE GREAT RELATIONSHIPS WITH THE ATHLETES AND THEIR FAMILIES,"
The first-ever virtual Marathon of Sport is taking place Saturday Sept. 26 at 11 a.m. MT. Click here to register as a team or individual.
The hour-long event will be broadcast live on Sportsnet One, as well as streamed live on Sportsnet.ca, Sportsnet Facebook Live, Sportsnet YouTube, and motionball.com/watch.