Dallas Sorken is Leading the Way with Sobeys and SOA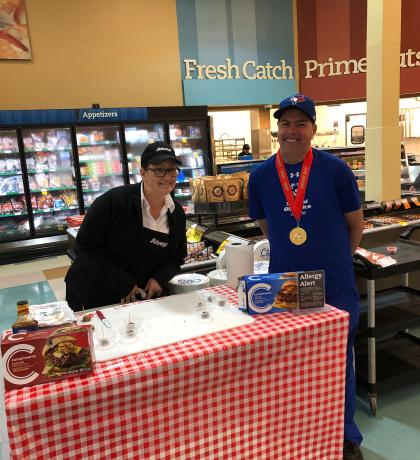 "IT IS VERY IMPORTANT AND CRUCIAL TO HELP ATHLETES BETTER THEIR PERFORMANCE AND FOR THE ATHLETES TO EAT HEALTHIER. I'LL BE THERE AND TELL THEM TO SUPPORT OUR ATHLETES BECAUSE IT IS VERY CRUCIAL TO DONATE BECAUSE IT HELPS US IN SO MANY WAYS." – DALLAS SORKEN ON WHY THE SOBEYS CHECK-STAND CAMPAIGN IS IMPORTANT TO HIM.
Dallas Sorken is a leader.
The 40-year-old is someone that other Special Olympics athletes look to for advice and to speak on their behalf as the Chair of the Athlete Leadership Council.
In 2000, Dallas was looking to get involved in the community and in sports and signed up for Special Olympics.
While he has played many sports, he is currently involved in softball and hockey.
He stated that hockey is his favourite.
"Oh, it's good exercise [and] it's a really good team camaraderie sport," says Dallas.
He plays defense for his local St. Albert affiliate squad and enjoys the challenge of keeping the puck out of his end, battling for position, and helping his teammates.
His leadership is something that will be invaluable as he and the St. Albert floor hockey team prepare for the 2020 Special Olympics Canada Summer Games in Thunder Bay from February 25 to 29.
Dallas was part of Team Alberta for the 2002 Games in Prince Albert. He was selected for track-and-field and earned a gold, silver, and bronze in the 100m, 400m, and 800m respectively.
His athletic experience combined with his leadership skills will help Dallas prepare his teammates for the national stage.
"A lot of our athletes on our hockey team have not been to Nationals before, so I'm looking forward to mentoring them into what to expect for in preparation," says Dallas. "As time gets further on, we talk about it more we get athletes more prepared of not only the sport part of it, but like also meeting new athletes. It's much more on a broad scale than what Provincials is."
Dallas is also a leader in his community and at his job where he works at Sobeys as a cashier and courtesy clerk, a role he has held since 2005.
He helps gather carts, clean, carrying customers groceries for them, and making sure the tills have the supplies they need.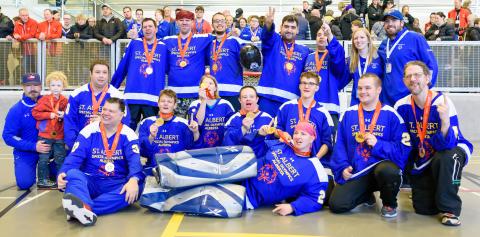 But his favourite part of the job is helping the customers and his fellow employees.
"It's very good and very satisfying to being part of this company, and especially now that it's a sponsor for a Special Olympics," says Dallas. "I can work hand in hand with the managers to make sure everything goes smooth with the campaign."
Last year, Sobeys, Safeway, IGA, Urban Fresh, Foodland and Thrifty Foods customers raised more than $700,000 for Special Olympics programming across Canada.
These funds helped hundreds of athletes compete at Provincial Games, as well as fund quality sports programming for 47,500 athletes in communities across the country.
This year, Sobeys Inc. wants to raise $1 million and you can help make a difference in the lives of Canadian children, youth and adults with an intellectual disability by simply visiting your nearest Sobeys, Safeway, Foodland, IGA, Urban Fresh or Thrifty Foods (excluding Quebec) from June 20 to July 3 and making a $2 donation when you check out with your groceries.
100 per cent of funds raised will support Special Olympics community programs across Canada."[SOBEYS'] SUPPORT MEANS AN AWFUL LOT. BECAUSE IT ALSO MEANS SINCE WE'VE GOT A NUTRITIONIST AT THE STORE THAT WE CAN HAVE NUTRITION SESSIONS FOR THE ATHLETES," SAYS DALLAS.
In 2018, Sobeys launched Nutrition Sessions, focusing on tools and tips to help athletes like Dallas make healthier food choices.
When asked why Special Olympics and Sobeys worked well together, Dallas stated that the emphasis on healthiness is key.
"[Sobeys'] number one priority is for the athletes to eat healthier," says Dallas.
As a leader, Dallas has done a great job acting as a representative for his fellow athletes.
"Being the chair means a lot to me because the athletes need to have a voice on the board," says Dallas.
Dallas hopes that more athletes join Special Olympics and says that he is always willing to lend a hand, share advice, or just listen if an athlete needs support.
"It's a wonderful opportunity [because] Special Olympics is like a second family," says Dallas. "And everybody's there to help each other."
Head to your local Sobeys store throughout the campaign and donate $2 when you check out to support Special Olympics athletes across the country.
For more information go to www.specialolympics.ca/sobeys