David Nicholson is Benching Inequality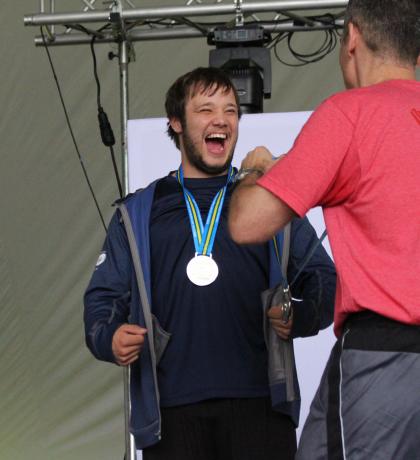 The Revolution is Inclusion and our athletes are changing the game by putting inequality on the bench.
There is only one option moving forward and that is inclusion. Powerlifter David Nicholson is changing the stigma surrounding people with intellectual disabilities one deadlift at a time.
23-year-old, David is used to carrying a lot of weight on his shoulders not only in the gym, but in his everyday life too.
David attends Mount Royal University and is pursuing a physical education diploma. He also actively volunteers and was named volunteer of the year at the Shawnessy YMCA.
Over the past 16 years he has been involved with Special Olympics, competing in a variety of sports including baseball, basketball, bowling, floor hockey, soccer, along with his passion – powerlifting, which he has been doing for two years now.
"POWERLIFTING IS MY LIFE," SAID DAVID. "IT KEEPS ME HEALTHY AND STRONG. IT BUILDS UP MY MUSCLES. I LOVE COMPETING, IT IS FUN."
"The Beast" as he is known by his teammates is aptly nicknamed for his persona in the training room. David works out every day at the gym and also has weights in his basement to keep him lifting.
He works with his coach Sandy King once a week and also has two other personal trainers who he works out with every week as well.
His dedication continues to pay dividends with his selection for Team Alberta and recent appearance at Nationals.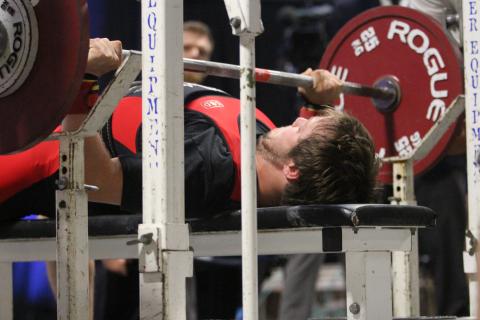 For David, Nationals was an opportunity to experience competing with the top powerlifters in Canada, meet new friends, and support his Team Alberta teammates.
David showed he could hang with the best racking up 4 medals in the M5 division including a gold in the squat and 3 silvers in benchpress, deadlift, and combination.
His mother, Barb Nicholson, has been watching with quiet pride. "He just took off on powerlifting," she says. "He was good at it, was focused and loved the group of people. And it sort of took over. He's been training twice a week – he loves it that much. More important than the police for sure."
Here Barb hints at the passion that once consumed David the way powerlifting now does – policing. He realized he couldn't be a police officer because of his disability, she says, but has nonetheless found a way to connect with it. He volunteers with the Calgary Police Service's tactical team and lifts weights with some of the officers.
And one of them, Jean-Marc Boucher, has taken David under his wing.
"He's really been fortunate," Barb says. "Jean-Marc has really made an effort to bring him in and have him work out with the guys."
David says Jean-Marc "is kind and strong." And he lists him as a hero.
Today, David says his dream is to make it to the Worlds with Special Olympics and become a professional powerlifter."BEING AN ATHLETE IN SPECIAL OLYMPICS IS THE MOST IMPORTANT PART OF MY LIFE," SAID DAVID. "I HAVE GAINED NEW SKILLS IN A VARIETY OF SPORTS. I HAVE GAINED CONFIDENCE. I HAVE MET THE BEST OF FRIENDS. I HAVE GROWN STRONGER AND HEALTHIER. I LOVE SPECIAL OLYMPICS VERY MUCH."
For the past 50 years, Special Olympics across the country has been enriching the lives of Canadians with intellectual disabilities through the transformative power of sport, but we can't do it alone – nor can the 800,000 Canadians with an intellectual disability.
In honour of our 50th year, we're asking you to help ensure Special Olympics can continue transforming lives for another 50 years: refer a friend or family member to a Special Olympics program, help raise awareness of our mission and shift the focus from disability to ability, or make a donation today.