Dribbling Inclusion into the Picture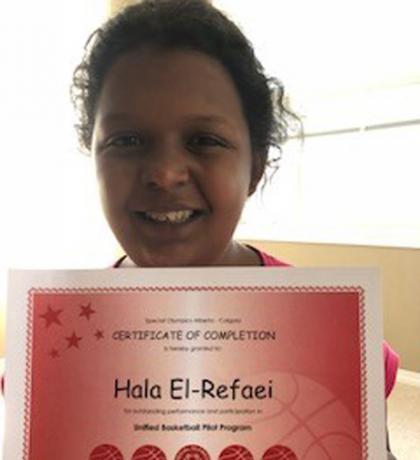 The school year has begun and as the leaves begin to turn we are gearing up for the return of sports programs.
For 17-year-old Hala El-Refaei it is one of the best times of the year as it marks the start of another season with Special Olympics Alberta – Calgary.
As she enters Grade 12, El-Refaei is excited to start her last year of high school. El-Refaei really enjoys hanging out with her friends who she stated would describe her as "funny, nice, and friendly."
Surrounding herself with her friends is one of the reasons that Special Olympics has been a perfect fit for El-Refaei who has built relationships with her teammates.
"My teammates, they're awesome," said El-Refaei. "They are all very kind."
Over the past four years, El-Refaei has competed in cross-country skiing, curling, swimming, and her personal favourite – basketball.
She first registered with Special Olympics because she enjoyed basketball and thought it would be fun.
El-Refaei continues to work on improving her skills and advocates that her coaches have helped motivate her, while refining specific techniques.
"MY COACHES ARE SO VERY NICE," SAID EL-REFAEI. "THEY HELP ME LEARN MORE TECHNIQUES. THEY HELPED ME LEARN TO DO A LAY-UP, WHICH CAN BE HARD AT FIRST."
Her skills continue to progress through programs like Unified Sports in Alberta. Unified Sports brings student athletes with and without intellectual disabilities together to play on the same team and recently El-Refaei participated in the Unified Sports pilot program at her high school.
Basketball is not El-Refaei's only sport and she is hoping that her commitment to training will allow her to compete at the 2019 Special Olympics Alberta Winter Games in Calgary.
She currently competes in curling and cross-country skiing and stated that getting the chance to compete in her first Provincial Games would be a lot of fun.
Hala's mother, Jehan, is grateful that her daughter is involved with Special Olympics and continues to receive opportunities to play sports, meet new people, and participate in tournaments."SPECIAL OLYMPICS GIVES HALA SELF-ESTEEM AND MAKES HER FEEL SAFE WHILE PLAYING GAMES SHE LIKES," SAID JEHAN.
2018 marks Special Olympics' 50th Anniversary and the introduction of our campaign to highlight the transformative power of sport through relatable, human challenges our participants face every day.
We're rallying the country to change this. Together, we can choose to include Canadians with intellectual disabilities and ultimately empower them to reach their full potential in sport – and in life.
Let's focus on what individuals with intellectual disabilities can do, instead of what they can't.
For Hala, this movement has motivated her to start being a leader and her mission to be a voice for global inclusion in the future.
"I hope people be more inclusive in the future," said Hala.
Her challenge is to try new sports – even ones outside of Special Olympics like squash and tennis.
Hala hopes to be involved in Special Olympics for a long time and expressed that new athletes should challenge themselves to sign up.
"DO IT, BECAUSE IT IS FUN TO INTERACT WITH PEOPLE AND IT IS A LOT OF FUN," SAID HALA.