From the Bakery to the Pool, Michelle is a Master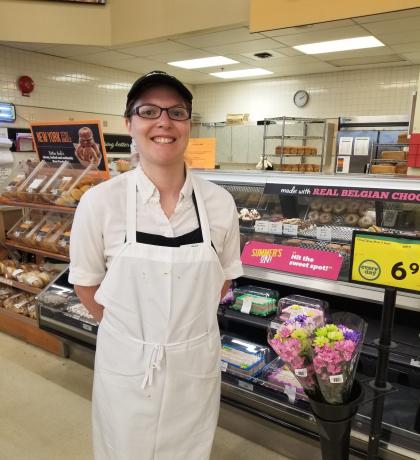 Michelle Tschetter is multi-talented.
Whether she is in the pool, on the field, on the court, or in the bakery at Sobeys, she masters the task at hand.
In 2005, Michelle started working at Sobeys in Morinville as part of a work experience program at her high school and it was a perfect fit leading to her being hired on.
Not only did she love the staff and the work environment, but Michelle likes the variety of tasks she is given.
And it is a lot.
Michelle is a master of all helping to deal with customers, answer the phone, take orders, package all the buns, and stock the shelves, but she will admit she thrives in the bakery.
"My favourite things are packaging all the buns, slicing all the bread, helping out with the decorating and tidying up all the cookies," says Michelle.
Like with her teammates at Special Olympics, Michelle feels a camaraderie between her, the bosses, and other employees at the store, which makes working there so nice.
"My boss is super, super nice. And I like all the employees in bakery – they're just they're so good to me. If I ever need someone to take my shift I'll ask them and they'll sometimes work it for me. So it's just like it's just awesome to have like employers like that." – Michelle on the staff at Sobeys.
This flexibility is important to Michelle who competes in multiple sports including softball, floor hockey, and swimming, among many others.
Her ability to master tasks also translates to her athletic pursuits, as she has competed at multiple National Games in swimming as a member of Team Alberta.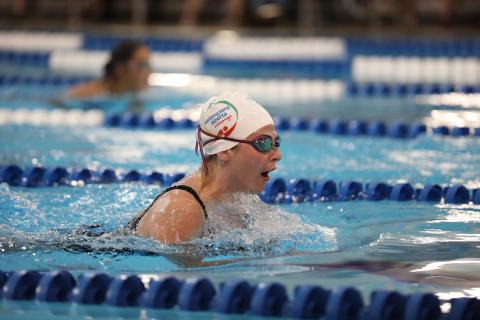 At both the 2014 Special Olympics Canada Summer Games in Vancouver and the 2018 Games in Antigonish, Michelle was able to swim her way to multiple medals, new friendships, unforgettable experiences, and memories that she described as some of her favourites from her time with Special Olympics.
Her Nationals experience will come in handy when she attends the 2020 Special Olympics Canada Winter Games in Thunder Bay with her St. Albert floor hockey team.
As a veteran of Team Alberta Michelle has some excellent advice for her teammates:
"Have fun, play hard and just do, do the best that you can do."
Being a Team Alberta athlete means training hard and making healthy choices and that's where the partnership with Sobeys has really benefitted athletes.
In 2018, Sobeys launched Nutrition Sessions, focusing on tools and tips to make healthier food choices, while bringing together employees, athletes, volunteers and families/caregivers.
More than 100 Sobeys office employees have been trained to share their passion for better food by volunteering their time to lead Sessions in select communities across the country.
To date, together with its employees, Sobeys Inc. has contributed more than $2.8 million in support of nutrition education, access to food and local Special Olympics community sports programs.
Michelle says she is happy to have the support from Sobeys as both an athlete and employee.
She recommends athletes get involved and experience the support that Special Olympics and Sobeys has given her.
I would tell them that Special Olympics is lots of fun [and] you make good friends," says Michelle. "The sports that you play is a very, it's very good exercise."
From June 20 to July 3, 2019, Sobeys stores will come together from coast to coast (excluding Quebec) to support Special Olympics across Canada with its second national in-store check-stand fundraising campaign with the goal of raising $1 million to support athletes like Michelle across the country.
For more information please visit www.specialolympics.ca/sobeys