Get the Scoop on Athlete Reporter Josh Petrone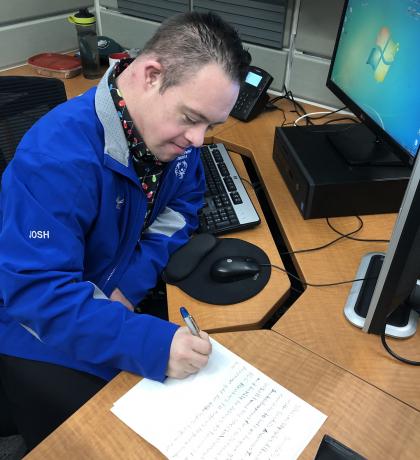 If there is a story to be found Josh Petrone is always ready to get the inside scoop.
Josh is an invaluable member of the Special Olympics Alberta staff and started working as an athlete reporter five years ago.
"I discovered I liked writing stories for Special Olympics," said Josh. "It is many things like finding new stories, taking pictures is cool, and sharing with people is the best feeling."
What makes Josh unique is his ability to excel in sports and get an inside look at each event he plays at.
He writes a weekly blog called Josh on the Sidelines, so be sure to check in on his latest story.
"I keep people updated about Special Olympics and do reporting for events on Facebook, Instagram, anywhere."
The 33-year-old continues to hone his craft and stated that he has learned and improved by simply doing it.
Josh continues to explore new ways to engage with his audience and he has started created digital photo collages as a way to share stories.
"It is a new thing I am doing and no one knows yet, but it is something I liked doing," said Josh. "I think it will kind of add to my story."
You can check out his latest collage here and stay tuned because he shared with us that he is already working on another one and he shared that it is going to be about the 2019 Special Olympics Alberta Winter Games.
Not only will Josh be writing a story about his experience at Provincials, but he will also compete as a member of the SOA – St. Albert floor hockey 'B' team.
Josh said that he was excited for #Calgary2019 and that his team has been practicing hard to make sure they are ready.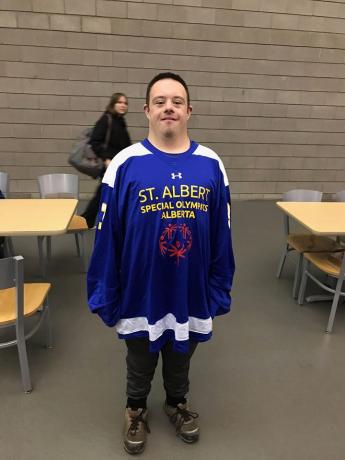 The team plays every Tuesday night – they have scrimmages, practice drills like dump and chase, and do shootouts. He is a versatile player who can play every position, but prefers forward to try setting up goals and scoring some too.
"I just wanna have fun with everyone," said Josh. "A medal is just a medal – winning and losing doesn't matter it's just about doing your thing and about having sportsmanship."
Josh has been involved with Special Olympics for over 20 years and has had some memorable experiences along the way.
This year he rapped the Jimmy Fallon Special Olympics song to support Team Alberta, participated in Marathon of Sport as a member of Team Double J, and did the first Heroes Running for Heroes dressed as Spiderman in which he earned the honour of top fundraiser.
His favourite memory is the 2013 Special Olympics Alberta Winter Games in Grande Prairie where he earned a bronze medal in floor hockey.
This year Special Olympics celebrated its 50th Anniversary and set out a plan to make inclusion a global reality over the next five years.
Athletes like Josh are at the forefront of the movement and are encouraging everyone to #ChooseToInclude and take on any or all of the below challenges:
Challenge No. 1: Refer a friend or family member to a Special Olympics program.
Challenge No. 2: Raise awarenessof our mission and shift the focus from disability to ability by sharing #ChallengeAcceptedSOC on social media.
Challenge No. 3: Make a donation to Special Olympics Canada today.
"I want to do a 50th Anniversary story because inclusion is important to me," said Josh. "It is important that people can try whatever they want."
With the holidays coming up we want to remind you that Special Olympics Albert will be closed Dec. 22 – Jan. 2.
"I wanna wish everyone a great holiday from Special Olympics and I will write more in the New Year," said Josh.
Be sure to check out Josh on the Sidelines on our Facebook page for the next great story!