Helping Athletes Hit Their Goals is a Daily Routine for Todd Mitchell
From the moment he started coaching with Special Olympics Alberta-Edmonton, Todd Mitchell has been making a difference in the lives of athletes.
His journey began in 2009 after registering his stepson Jaimee for alpine skiing.
Jaimee is deaf and autistic, so Todd was asked to ski with him as none of the coaches knew to sign.
After hitting the slope alongside Jaimee and his fellow athletes, Todd was hooked and has been involved as a coach ever since.
Todd and his wife Tracy, coach in tandem, heading up the 10-pin bowling and alpine skiing programs in Edmonton.
"Being a part of Special Olympics has changed my life in many ways," says Todd. "I have made so many friendships over the years and been able to participate in so many great events put on by Special Olympics and they are memories that will last forever. I will always be grateful for the opportunities that Special Olympics have given Jaimee and myself."
Todd has been actively involved at the grassroots level all the way to the national stage, helping athletes learn their sport and achieve their dreams.
His motivation for coaching comes from the athletes and Todd has built a culture where he learns from the athletes as much as they learn from him.
"Seeing the true love and enjoyment of the athletes being able to do the sports they love and the honest appreciation they have for it," says Todd. "Being able to be a part of giving them the opportunity to do these sports and building amazing friendships is very rewarding."
Looking ahead, Todd is committed to building a foundation for programs to continue to grow.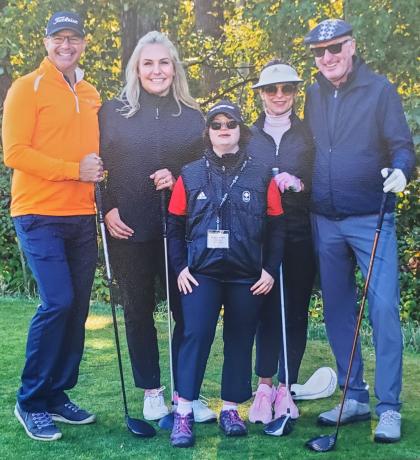 His goal is to get more athletes involved in local programs, promote the opportunities Special Olympics has to offer, and most importantly help athletes reach their own goals.
As athletes return to programs, Todd is thrilled about reconnecting with athletes and volunteers and getting back to what Special Olympics is all about – friendships and fun!
"IF YOU WANT TO EXPERIENCE ONE OF THE MOST LIFE-CHANGING OPPORTUNITIES AND HAVE THE CHANCE TO MAKE A DIFFERENCE, COACHING OR VOLUNTEERING IN SPECIAL OLYMPICS IS FOR YOU.
April 24-30 marks National Volunteer Week, and this year we want to emphasize how important our volunteers are to us by spotlighting them throughout the week.
Visit https://www1.specialolympics.ab.ca/abvolunteer-week/ to see all of our profiles and share a message with a volunteer who has made an impact in your life using our Twitter message board.
If you're interested in volunteering, click here to begin your journey with Special Olympics Alberta!