It Takes a Village and in Calgary we have a Community
Since becoming an affiliate in 1981, Special Olympics Alberta-Calgary has made an impact on the lives of its athletes through the support of their volunteers.
400 volunteers support athletes by spending thousands of hours coaching and mentoring athletes, organizing events, supporting fundraising initiatives, and much more.
Over the past year, volunteers in Calgary have continued to be involved through facilitating online workouts, practices, and programming for athletes.
"The value of one and the power of many is the theme of this year's National Volunteer Week. Special Olympics Calgary celebrates all 400 of our year-round volunteers that dedicate their time and expertise to strengthen our programs and truly transform the lives of our local athletes. With so many worthy organizations that people can choose to volunteer within the City of Calgary, we are truly grateful and honored that so many people, from all walks of life, continue to want to be a part of our Special Olympics Calgary family." – Kathy Urquhart and Karen Hurley, Special Olympics Calgary
To provide programs to over 1000 athletes truly takes a community, and we want to recognize some of the volunteers who continue to make a difference in Calgary:
SOA-Calgary has a very dedicated group of individuals that work weekly to keep their floor hockey leagues running smoothly.
They come out each week to be scorekeepers, timekeepers, and referees. These individuals take pride in their work and have helped at events from the local level to Nationals.
Referees: Norm Hurley – Head Referee, Tim Allsopp, Kendrick Andrews, Joel Anthoine, Peter Glossop, Nick Handrahan, Robbie Hurley, Jackie Leesman, Kevin Whalen, and David Willms.
Timekeepers and Scorekeepers: Penny Allsopp, Betty Chizmadia, Pat Desaulnier, Bill Leesman, Gail Nott, Marilyn Ritchie, Lorna Usselman, and our friends with the Knights of Columbus – Frank and Donna Drewniak, Jaimie Jiminez, Joe Kondrack, Wilmot Persaud, Terry Rose, and Mereve Strome.
Calgary also has some incredible program assistants and there are a few that we want to recognize for their dedication to enriching the lives of our athletes:
MARIE EVANS
Marie has been volunteering with the Alpine Ski program for 20 years. She looks after everything from attendance to planning the year-end windup party.
"What motivates me to continue with the organization is to see the progression of the athlete's confidence as they get better in their sport and the confidence this instills in them on a social level as well," said Marie. "The volunteers and athletes are a great bunch and bring a lot of fun to the program."
Some of her favourite memories include the camaraderie amongst athletes, watching new skiers don their SO jacket for the first time, and watching their growth from beginning to Worlds.
HUGH O'NEILL
For 24 years, Hugh has been an integral part of multiple sport programs in Calgary. Hugh has taken on the Floor Hockey program in Calgary and coordinates all program levels.
He travels to each of the four programs to check in, touch base with coaches and athletes, and assist where needed.
BEV HANSEN
Bev is the program assistant for the Figure Skating program in Calgary.
She has been volunteering for 10 years and is instrumental in the program's administration.
"One of my favorite moments was meeting Dr. Frank Hayden and his wife Marion in Antigonish, NS for the Canada Summer Games in 2018," said Bev.
"They are both such lovely, sweet people and took the time to chat, although Frank loves to talk to people anyway and they have trouble getting him away to his other commitments."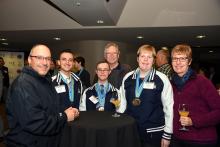 BEN SPADEMAN
Ben has been involved with SOA-Calgary since 2011 and is currently a member of their Affiliate Management Committee. He has acted as their Treasurer for the past 10 years and is constantly ensuring that finances are in order, reporting and audit procedures are followed, and financial systems are updated and implemented.
Ben is a true advocate and financial supporter of SOA-Calgary and regularly utilizes his business and personal networks to engage new donors for the organization. In addition to his role as Treasurer, he has served as Co-Chair of the annual Breakfast with Champions for the past few years.

"The Calgary volunteers highlighted here are but a few that show the importance of the value of one and the power of our many volunteers," said Kathy and Karen. "Thank you to all our amazing volunteers!"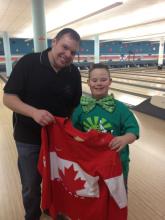 April 18-24 marks National Volunteer Week, and this year we want to emphasize how important our volunteers are to us by spotlighting them throughout the month. Profiles will be released Tuesdays and Thursdays to recognize people who continue to make an impact in the lives of our athletes.