LETR Celebrates Special Olympics Athletes with Three Outstanding Events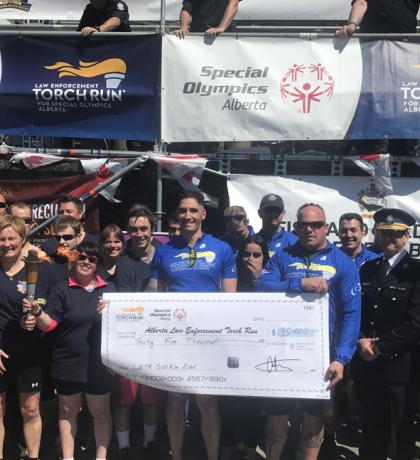 The Law Enforcement Torch Run (LETR) is the largest grassroots fundraiser of Special Olympics internationally and last year in Alberta they raised over $467,000 across the province to benefit local programs.
On June 16 officers from Lethbridge and Fort McMurray began the 13th annual 500km Provincial Torch Run Ride where teams of cyclists departed from their respective cities and arrived in Edmonton on June 17 around noon at Cabela's Edmonton south store location.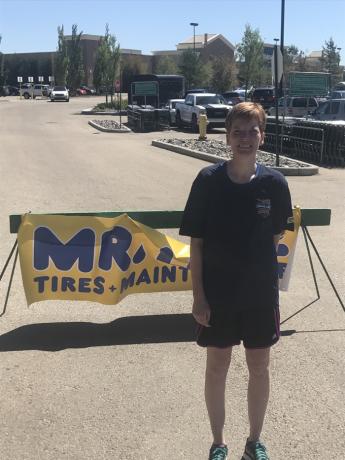 Their arrival coincided with Free Our Finest, an LETR event where officers camped on the rooftops of both Cabela's locations in Edmonton and the LETR Final Leg Torch Run in Edmonton to raise funds and awareness for Special Olympics Alberta. There was also a Free Our Finest event in Calgary that same weekend (June 16 to 18) at Cabela's, 851 64 Ave NE.
The Flame of Hope was burning bright as the Guardians of the Flame ushered in the torch with Special Olympics athletes and LETR cyclists.
Edmonton soccer player Jenny Murray was one of the athletes who participated in the Final Leg Run and had the chance to run with the Flame of Hope stating, "I have always wanted to carry the torch, it means a lot." Murray will compete at the 2017 Special Olympics Summer Games in Medicine Hat and believes that the opportunity to compete is in large part due to the support from LETR.
"I THINK THEY ARE REALLY AWESOME AND WITHOUT THEM WE WOULDN'T BE ABLE TO GO TO EVENTS LIKE MEDICINE HAT OR NATIONALS." – JENNY MURRAY ON LETR
The three events culminated with a short program as Chief Lee Newton from Alberta Sheriffs, Special Olympics Alberta CEO/President Johnny Byrne, Edmonton athlete Jenny Murray, and Senior Constable Matt Champagne each shared words on the outstanding partnership between Special Olympics and LETR.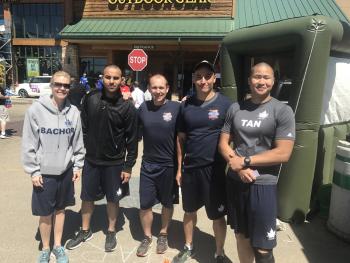 The LETR Provincial Torch Run Ride presented Special Olympics with a cheque for $35,000 and we cannot thank them enough for their incredible efforts and commitment to supporting Special Olympics athletes.
Recruit Constable, Nicholas Tan of the Edmonton Police Force has been a part of LETR for a few years now and was extremely pleased with the amount of people involved claiming "it [today] has been great. The turnout is awesome and there's a lot of support from different agencies and just the people of Edmonton, generally." "DO YOUR BEST AND GOOD JOB MAKING IT ALL THE WAY TO THE SPECIAL OLYMPICS [PROVINCIAL GAMES]!" – RECRUIT CONSTABLE, NICHOLAS TAN ON ATHLETES ATTENDING THE 2017 SPECIAL OLYMPICS ALBERTA SUMMER GAMES
The 2017 LETR Final Leg torch run continues this weekend as the Flame of Hope will be in Strathcona County on Friday, June 23 and in Red Deer on Sunday, June 25.
For more information about the upcoming Final Leg events and any future LETR events check out the website: http://albertatorchrun.ca/
Thank you to Mr. Lube, Sawmill, Alumna Systems, and Maple Leaf for their continued support and sponsorship.