Meet the Pack: Blain Fuller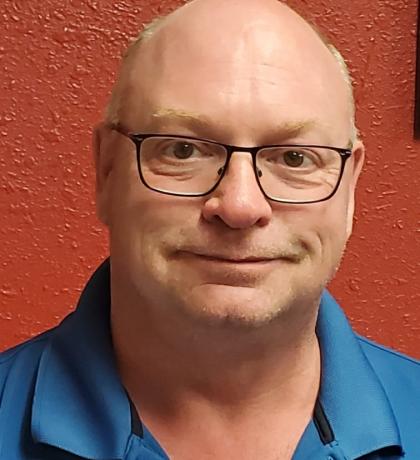 Blain Fuller is ecstatic to be bringing his first floor hockey team to Nationals.
It is something he has dreamed about doing since he started coaching with Special Olympics way back in 1989 and bringing his Wetaskiwin floor hockey team to Thunder Bay is the realization of a 30-year journey.
Although, this is not the first time he has embarked to Nationals with Special Olympics.
This will be his fourth time at Nationals and that does not include when he was the Director for floor hockey in St. Albert in 2012.
Blain was the Team Manager for both the speed skating and figure skating teams in 2016.
Floor hockey is just one of the sports he has coached throughout his tenure on a list that includes 5-pin bowling, track and field, swimming, soccer, and softball.
His start in Special Olympics began at a group home when a client came to them with information about one of the local programs.
After sounding interested the client offered him the opportunity to volunteer at the Summer Games.
From the moment he attended the Opening ceremonies and felt the energy from all the athletes, he was hooked.
Blain's 30 years of experience with Special Olympics is quite impressive, but the effect he has had on the community of Wetaskiwin runs much deeper than that.
In preparation for the upcoming Nationals, Blain was able to get the city of Wetaskiwin to give all of his athletes' free memberships to the Manluk Centre to use the facilities which includes a weight room and swimming pool.
That gesture has not gone unnoticed by his athletes who are paying him back by training their hardest for Nationals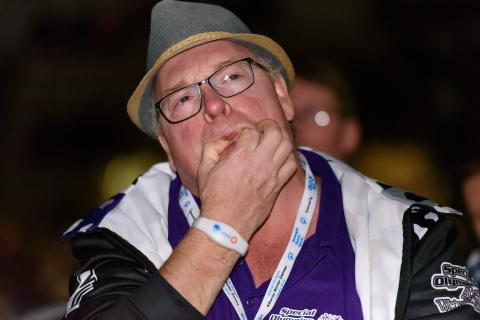 And it just shows the length that Blain will go to for the benefit to his athletes.
That relationship goes beyond sports.
"As a head coach you're not just a coach, you're social worker, you're financial planner, you're a relationship mediator. I'm a bus driver, you know I drive our guys when they need to be driven," says Blain. "You become kind of a jack of all trades for them."
Players are also coming to Blain for work references and personal issues and believes that Special Olympics provides people with a positive influence that drives them down better life paths, which is just one of the many reasons why Blain has remained so deeply involved in Special Olympics for the better part of his life.
Now 51, Blain says that one of his best experiences ever was partaking in the K-Days Parade this year in Edmonton where he walked alongside his players down Jasper Avenue.
"YOU JUST CAN'T EXPLAIN HOW THAT RESONATES WITH AN INDIVIDUAL," SAYS BLAIN. "RIGHT, THAT ENERGY, THAT ACKNOWLEDGEMENT THAT IT'S JUST SO INCREDIBLE. FOR ME, I'VE HAD SO MUCH PERSONAL GROWTH THROUGH SPECIAL OLYMPICS."
For Blain, Special Olympics is a family ordeal and his whole family is involved in some way.
Blain says that they are his biggest supporters and volunteers when he needs them.
This year has been especially rewarding for Blain, as his 1998 women's softball team who were Provincial Champions got inducted into the Wetaskiwin Sports Hall of Fame.
That group made Team Alberta and went to the 1998 Women's Canada Cup International Softball Championships in the Special Olympics Friendship Division.
That team is now in the same Hall of Fame as NHL and CFL players, which Blain said was amazing to have Special Olympics athletes in with those people.
"It legitimized our sport and our recreational programs in our community, to be recognized at that level was certainly an honour."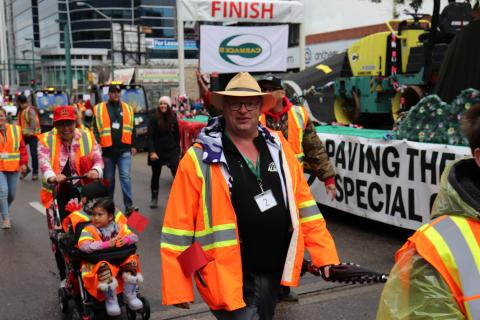 That recognition goes a long way for Blain and his athletes and helps break the stereotype of Special Olympics according to Blain.
"So part of the misconception of Special Olympics is everybody figures that people with intellectual disabilities are running down the track and field holding hands. But their competitiveness goes beyond that. My athletes work hard, they train, they watch their nutrition, and they're athletes."
Blain's coaching philosophy is all about personal growth, and he gets that from his athletes through preaching a few things to his players.
Being all about fun and not caring if they win or lose, as long as they're learning, getting better and having fun while they do it.
He says if everyone isn't enjoying themselves, it just isn't worth competing.
That fun-centric environment has been beneficial to these athletes way past just sports.
Blain has seen incredible transformations in the quality of life and confidence that his athletes get from participating in Special Olympics.
That camaraderie between teammates and working towards a goal is so apparent according to Blain, and leads to this general sense of well-being and belonging.
He also sees a real passion and motivation that exudes from his athletes after being involved and that benefit manifests to their families and the entire community in Blain's experience.
"OUR VOLUNTEERS ARE VALUED, WE HAVE LOTS OF FUN, LOTS OF OPPORTUNITY FOR PERSONAL GROWTH AND DEVELOPMENT IN MANY DIFFERENT AREAS. SO ONE OF THOSE THINGS THAT ONCE YOU SORT OF GET INVOLVED IT GETS UNDER YOUR SKIN AND YOU CAN'T GET ENOUGH OF IT."