Meet the Pack: Emma Bittorf
At just 16-years-old Emma Bittorf can already say that she is an Olympic silver medalist.
The Special Olympics Alberta-Calgary athlete is fresh off an appearance at the Special Olympics World Summer Games 2019 in Abu Dhabi where she walked away with a silver medal in golf.
She will be looking to continue her competition hot streak, as she laces up the figure skates as a member of Team Alberta 2020.
Even though this is her first Winter Nationals, Emma has already proven she can compete at the highest level and has goals of making back-to-back Team Canada squads.
"I hope to win gold at Nationals and be picked for Team Canada," says Emma.
Despite her young age, Nationals experience is not something Emma is lacking having won a bronze medal when she golfed for Team Alberta in 2018.
And for someone with only six years of experience with Special Olympics, her medal count is already through the roof.
But Emma has been loving the experiences, memories, fun, and the new friends she has made throughout her journey in sport thus far.
Emma is happy her family got her involved in Special Olympics and her experiences have made it more than worthwhile.
"My family got me involved in sports and I enjoyed competing, making new friends and winning medals," says Emma.
She has been training out of her hometown of Strathmore at the Strathmore Skate Club with Special Olympics, but she also is working out at Target Fitness in Calgary.
Her father Darren has been helping Emma with fitness training and the pair have been working on some more specific skating techniques to improve her program for Nationals.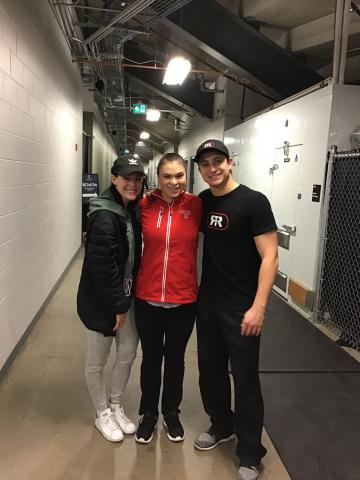 Emma's coaches have been helping improve her speed on the ice through implementing longer strides, holding her landings longer, and working on perfecting bigger or more complex moves.
Even though there are things Emma is trying to improve on, she has a few things that she is quite confident executing on the ice.
"I would say my lunges and spirals are my best."
Furthermore, Emma had the chance to skate with Canadian skating legends including Tessa Virtue, Scott Moir, Kaetlyn Osmond, and Patrick Chan as she was selected to participate in Rock the Rink in Medicine Hat on Oct. 19.
Emma is also changing her eating habits by eating more healthy and watching her calorie intake to give her that extra competitive edge.
With her new training and eating habits, Emma is ready to compete for Team Alberta in Thunder Bay.
"IT MEANS A LOT AS IT MAKES ME FEEL HAPPY AND PROUD TO REPRESENT MY PROVINCE," SAYS EMMA.
Heading back to Nationals, Emma does have some words of wisdom for her teammates that have not been before.
"Nationals is really fun because you get to meet other people and make new friends from different provinces, she says. "It's okay to be nervous before competition but try your best."
Let's all wish Emma the best of luck competing for Team Alberta in Thunder Bay.