Meet the Pack: Katie Saunders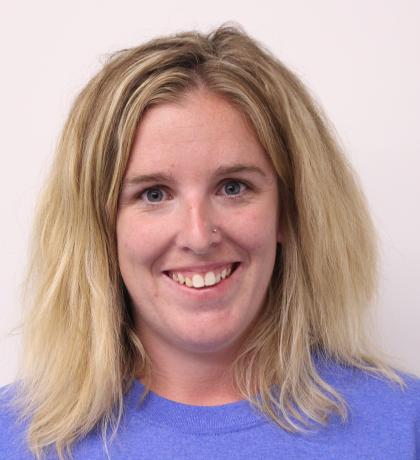 Katie Saunders is no stranger when it comes to competing on the National stage.
For Katie, Team Alberta 2020 marks the sixth time she will don the Alberta crest and represent her province.
She has competed at the last two Special Olympics Canada Summer Games – Vancouver in 2014 and Antigonish in 2018 – as a member of the athletics team.
In 2016, Katie competed at the Special Olympics Canada Winter Games in Corner Brook taking home four silver medals in her specialty, speed skating.
The Calgarian is now 29-years-old and is focused on improving her times, winning as many races as she can, and making Team Canada to represent her country.
Katie now has 12 years of experience with Special Olympics under her belt, and will be representing Alberta for the fourth time when she hits the ice in Thunder Bay.
"I hope to represent Alberta proudly," says Katie.
Katie is always focused on skating at her best and this year she's focused on getting in better shape through dryland training.
To help her reach those goals she's been working with Guy Bushell, a personal trainer.
Katie has also been following a healthy diet and uses music to get her more motivated during training.
She also trains regularly at the Olympic Oval with SOA-Calgary and the Calgary Speed Skating Association.
Some things Katie is trying to improve specifically is staying low, especially when she starts to get tired during races.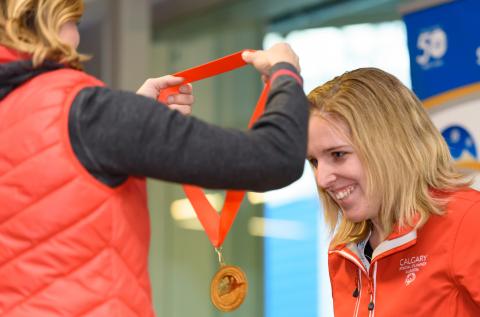 When it comes to inspiration, Katie looks up to an indistinguishable Canadian icon, Olympic champion, and Special Olympics Ambassador who skated her way to three medals in 1998 and 2002.
"My inspiration is Catriona Le May Doan," says Katie. "She was a great speed skater, represented Canada really well, and is a huge supporter of Special Olympics."
However, Katie says that her motivation in speed skating comes from herself.
She wants to see how fast and how fit she can be at the sport.
Katie's spirit will be on full display when she graces the rink in Thunder Bay and has this to say about Special Olympics as a whole.
"WATCHING SPECIAL OLYMPICS SHOULD BE INSPIRING TO EVERYONE WHO WATCHES," SAYS KATIE. "SEEING ATHLETES COMPETE AT 100 PER CENT REGARDLESS OF ABILITY IS A TESTAMENT TO THE POWER OF THE HUMAN SPIRIT, THE DRIVE TO SUCCEED, AND THE DESIRE OF ALL TO BE INCLUDED."
With so much Nationals experience, Katie will be one of the leaders, not only for her fellow speed skaters, but for all of Team Alberta. Some advice for her teammates would be to just work their absolute hardest, try their best, and try and have fun.
Katie's focus is to win her first gold medals while beating her times and making Team Canada.
If anyone can do it, it's the four-time silver medalist Katie Saunders.
Let's wish her and all her Alberta teammates good luck in Thunder Bay.