Meet the Pack: Kyla Henwood
Wetaskiwin will be icing a 15-player floor hockey team this year in Thunder Bay and Kyla Henwood will be the only girl on the team.
"I AM THE ONLY GIRL GOING TO NATIONALS ON MY TEAM. SO IT'S PRETTY NICE, THE FACT THAT I MADE IT HERE ON MY OWN. IT FEELS GOOD (BEING THE ONLY GIRL). I CAN PROVE THAT I'M JUST AS GOOD AS THEM…"
The 19-year-old stated that while it has been a little strange being the only girl on the team, they have all accepted her and she has been gelling with the team without any hitches.
Kyla lives in Millet and says it can be challenging to make the trip to the Manluk Centre in Wetaskiwin, where she trains and practices with the team.
However, when she can't make it to practices or training sessions in Wetaskiwin, Kyla takes it upon herself to stay in shape by walking around town as much as she can and working out from home.
When at the Manluk Centre, Kyla swims laps in the pool and uses the weight room with the goal of becoming more fit for the approaching Nationals competition.
It has not taken Kyla long to become hooked on floor hockey and after just three years with Special Olympics it's the only sport she's truly loved.
She tried to play a bunch of other sports but none of them gave her the same feeling that floor hockey did, so she stuck with it.
"I was living with my auntie and my uncle and my cousin was doing floor hockey, so I figured, why not give it a try. It was fun, I liked it and I got into a couple of other sports and I didn't like them so I just stuck with floor hockey. It was challenging and physical and it helped get my emotions out I guess."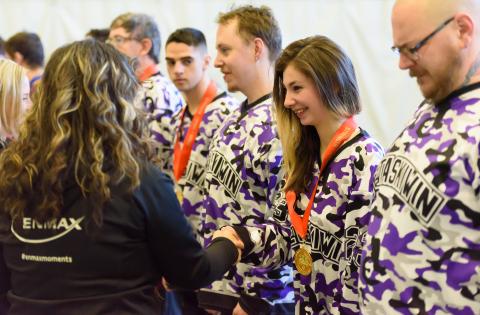 With a bounty of wonderful experience in Special Olympics already, Kyla believes that anyone unsure about trying out Special Olympics should not only try it once, but go a few times until you can get more comfortable with the sports and people there.
Kyla's anticipation of the event has her excited to have fun, meet new friends, and just take in the experiences Nationals has to offer.
She would love to win the gold medal as a team together because of the progression she has seen the team make together and to share that experience of winning gold would be amazing.
Join us in wishing Kyla the best of luck at Nationals in Thunder Bay.