Pat Enns: Inspiring Athletes One Spare at a Time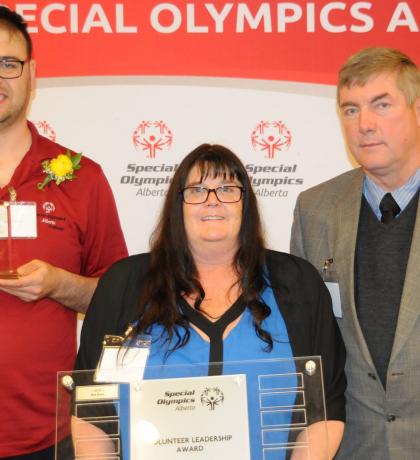 "A GOOD COACH CAN CHANGE A GAME. A GREAT COACH CAN CHANGE A LIFE." – JOHN WOODEN
Special Olympics Alberta has been blessed with incredible coaches since our inception in 1980 and like the great John Wooden once proclaimed a great coach can change a life – Pat Enns is the epitome of this statement.
For the past 26 years Medicine Hat's Pat Enns has been helping Special Olympics bowlers strike their potential and impacting each of their lives throughout her tenure with SOA.
Pat started coaching 5-pin bowling in 1992 after being asked to help cover for a coach at an SOA-Calgary event. She then took over as the 10-pin head coach in 1999, a position she has held since, and began helping out with the powerlifting program six years ago.
Along with coaching, Pat has continued to volunteer her time by sitting on the management committee in Medicine Hat as a member and the former Chair and Vice-Chair.
Her efforts continue to improve the lives of athletes at Special Olympics Alberta and she was recognized this year with the 2018 Volunteer Leadership Award for her commitment to multiple sports, the mentorship she provides to new volunteers, her continued efforts to allow the Medicine Hat affiliate to function at a high level, and her overall passion for Special Olympics."I HAVE BEEN ABLE TO BE INVOLVED FOR SO LONG AND BE PART OF THE ATHLETE'S LIVES – IT IS DEFINING IN ITS OWN RIGHT," SAID PAT. "EXPERIENCING FAILURES AND TRIUMPHS OR ACCOMPLISHMENTS. I DON'T KNOW HOW YOU DEFINE OR MEASURE MOMENTS LIKE THAT."
There are not many coaches with a resume like Pat, who has coached at the National level for every Summer Games since 1998 – acting as the 10-pin head coach for the last four Nationals.
Pat was selected as a 5-pin coach in 1998 and has since acted as a coach of the 10-pin team – head coach for the last four Nationals.
In 2003, Pat was chosen as a coach for Team Canada to attend the World Games in Ireland.
These memories of this experience are held in high regard for Pat who had high praise for everything from the billets to the bowling itself. Staying in Enniscorthy was especially memorable as Pat remembers the unwavering support from a group of people who had never even met them.
"I really don't know how to describe it," said Pat. "Watching athletes come into a stadium of 40,000 or 50,000 people at Croke Park and their reaction, cheering and support was unbelievable. Having that whole family experience was really a defining moment in my Special Olympics experience."
Overall, 2003 was a spectacular year for Pat who was recognized for as the Special Olympics Alberta Coach of the Year (10-pin).
She will make her return to the international stage next year as an associate coach for Team Canada bowling at the 2019 Special Olympics World Summer Games in Abu Dhabi, United Arab Emirates.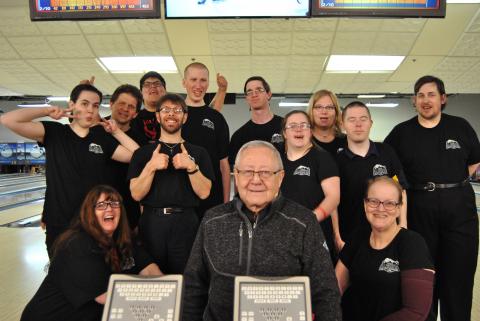 What makes Pat special as a coach, however, isn't just her impressive resume, but her impact on each athlete she has worked with.
Pat believes that understanding how to reach each athlete on an individual athlete is what is most important. Establishing a bond where you can act as not only a coach, but also as a friend is something that can help each athlete flourish.
"I learned how to teach each athlete as an individual and help each athlete use their specific technique to the best of their ability," said Pat.
While Pat had many unforgettable experiences during her time with Special Olympics there is one that stands out:
The one that really still tugs at my heartstrings is the time we were in Barrhead for Provincials and we had an athlete in swimming who won the gold. At the medal ceremony the other two athletes were lower on their podiums and the athlete pulled up the teammates onto their level to share in the glory. It was defining moment for me and Medicine Hat because caring is something we try to instill within our program.
Pat has been a cornerstone for SOA-Medicine Hat, helping the affiliate blossom into what it is today.
The program has grown to seven sports and there is a lot of new athletes signing up. She stated that while the support from volunteers has been overwhelmingly positive, the community still needs to evolve in its understanding of the movement.
"Our community is a little more accepting," said Pat. "We still need to have the community members to buy in that [Special Olympics] is not just once in a while, but it is ongoing."
This year Special Olympics celebrated 50 years of empowerment and inclusion through sport.
The future is committed to promoting global inclusion through sport and while Pat believes we have come a long way, there is more to be done.
"I THINK WE HAVE SEEN IT GROW FROM MORE OF A SOCIAL SPORT INTO MORE COMPETITIVE," SAID PAT. "TAKING A PERSON WITH ID AND EMPOWERING THEM TO LOOK AT THE SPORT AND LOOK AT HOW WE PUSH THEM FORWARD. WE NEED TO CONTINUE TO LOOK AT HOW WE DO THAT."
As we look towards the future and achieving this goal the challenge will be inspiring the next generation.
Pat is already inspired by the inclusion of young athletes and she advocated that if everyone is willing to accept the challenge, we can reach our goal of global inclusion.
"I think again that we have come a long way in many ways. I think that is because we are not isolating people and separating them through things like integrating them into the classrooms," said Pat. "As we grow in our understanding of rehabilitation for people with ID and as SO pushed forward to show that people with ID have the same rights, we really do show that it is okay to accept everyone."
Over the next five years, Pat wants to see her bowling club grow and is determined to find the individuals who will be committed to instilling these values in Medicine Hat and continuing the legacy she has built there."I THINK [SPECIAL OLYMPICS] IS LIFE CHANGING," SAID PAT. "IT REALLY IS. I THINK THAT PEOPLE COMING IN NEED TO KNOW THAT THEY WILL BE REWARDED SOMEHOW THROUGH ENRICHING THE LIVES OF INDIVIDUALS."
Refer a friend or family member today to Special Olympics Alberta to help kick-start the next generation of great coaches and volunteers.