Racing Towards the Brightest Future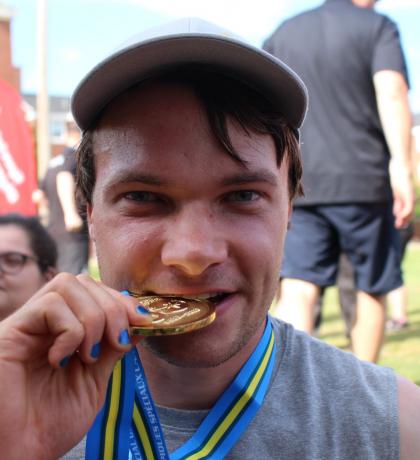 "IT ALWAYS SEEMS IMPOSSIBLE UNTIL IT'S DONE." – NELSON MANDELA
Kieran Corrigan is a long-distance runner with Special Olympics Alberta – Calgary who is inspired by his hero, Nelson Mandela.
A poster of the revolutionary leader hangs on Corrigan's wall in admiration of his efforts to end apartheid while fostering racial reconciliation.
His philanthropic efforts motivate the 23-year-old Corrigan to be a leader for change in his personal life and in sport.
Corrigan has worked in the kitchen at the Garrison Green Seniors Community doing dish prep work and cleaning dishes for the past year and a half.
He is an athlete who leads by example as he is always supporting teammates, displaying sportsmanship to his competitors, and humility in his incredible results.
Downhill skiing and floor hockey are two sports that Corrigan enjoys, but his true passion is running.
"I LOVE THE COMPETITION, BEING WITH THE ATHLETES AND [HOW] I FEEL AFTER," SAID CORRGIAN ON RUNNING.
When it comes to running, Corrigan is exceptional. He runs half marathons and goes out on five-kilometer runs three times a week to maintain his peak condition.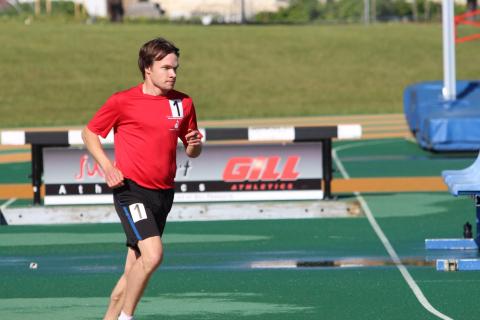 Corrigan has ran three half marathons including one in Charlotte, North Carolina. The trip was a memorable one for Corrigan who got to attend a Carolina Hurricanes hockey game and see Cam Newton and the Carolina Panthers.
Over the past three years Corrigan has been running with Special Olympics and his prominent training regiment, along with his passion for long-distance running, has already paid dividends on race day.
Last year Corrigan earned three gold medals in Medicine Hat at the 2017 Special Olympics Alberta Summer Games in the 5000m, 3000m, and 1500m.
This performance earned him a sport on Team Alberta and his first appearance at Nationals.
"It means the world to me," said Corrigan.
Corrigan just returned from the 2018 Special Olympics Canada Summer Games in Antigonish, Nova Scotia where he competed in the 1500, 3000, and 5000 meter races along with the 100m relay.
He put up strong performances in each race earning 7th place in the 3000m race, 4th in both the relay and 500m, and a first place finish in the 1500m.
See full results for all our athletes here."IT FEELS A SENSE OF BELONGING," SAID CORRIGAN ON SPECIAL OLYMPICS. "WHEN I DO THE SPORTS IT HAS A POSITIVE IMPACT ON MY LIFE."
In his short time with Special Olympics Alberta, Corrigan has already achieved great things and like his hero, Nelson Mandela, he aspires to live in an inclusive world.
For someone with an intellectual disability, the opportunity to live their full potential is one of the greatest benefits of inclusion.
While the task may seem insurmountable, "it always seems impossible until it is done."
Challenge Accepted: Help Special Olympics raise awareness of our mission by using the hashtag #ChallengeAcceptedSOC and shift the focus from disability to ability.