Seasons Change, But Eli Bernard Remains Game
Whatever the weather you can always find Eli Bernard enjoying another day playing the sports he loves.
His passion for competition and commitment to improving his skills earned him a spot on Team Alberta where he competed at the 2018 Special Olympics Canada Summer Games in Antigonish, Nova Scotia.
Vegreville is home to Eli Bernard who made his National games debut in athletics, competing in the 50m dash, standing long jump, and shot put.
Bernard is just 24 and has been competing with Special Olympics Alberta – Vegreville for seven years now. This was his first selection to Team Alberta and Bernard was grateful for the opportunity.
"Being a part of a family. Showing up at practices and working hard," said Bernard on what being part of Team Alberta means to him.
Despite Antigonish being his National games debut, Bernard put in the work to ensure he was prepared for the competition by working out twice a week at a local gym and swimming twice per week as well, in addition to his regular weekly athletics practices in Vegreville.
He also had a remarkable showing at the 2017 Special Olympics Alberta Summer Games in Medicine Hat earning a gold medal in shot put and standing long jump (M4 division).
Team Alberta head coach, Marie Powell added that Bernard worked with Fran Serna, associate coach, to improve his strength, conditioning, and flexibility.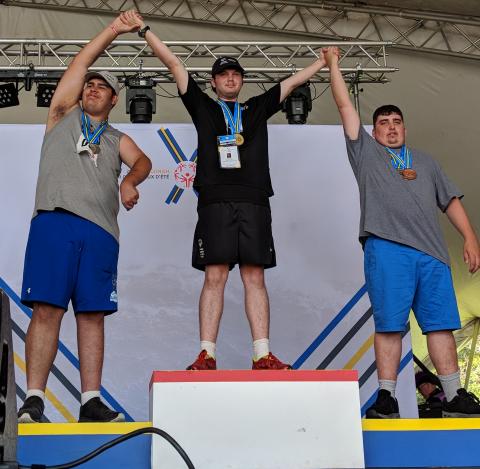 She further stated that Bernard had made notable strides in his fitness training over the course of the year including:
improved in the wall sit by 32 seconds
increased his speed in the agility test by 3 seconds
improved on his stork test for his left leg by 5 seconds
improved his seated reach flexibility by 5 inches
improved his broad jump by four inches
His training yielded incredible results at Nationals, as he walked away with a gold medal in the standing long jump (M3 division) and two silver medals in the 50m dash (M4 division) and shot-put (M4 division).
The ability to succeed in both summer and winter sports at an elite level is a rare feat amongst athletes, but Bernard is up for the challenge.
The multi-talented Bernard not only excels in athletics, but also plays floor hockey in the winter.
His versatility has improved his overall fitness and Bernard believes it gives him an advantage in both floor hockey and athletics.
"I find playing both get me a little bit more edge and more skill and I get to learn a lot more about the sport itself," said Bernard.
With Nationals in the rear-view mirror he has already started training for the 2019 Special Olympics Alberta Winter Games in Calgary."I AM VERY EXCITED," SAID BERNARD. "I LOVE [FLOOR HOCKEY] AND THE REASON WHY WAS THERE ARE THREE HALL OF FAMERS THAT INSPIRED ME: GORDIE HOWE, WAYNE GRETZKY, AND MIKE MODANO."
Bernard emphasized the word "family" when speaking of his time with Special Olympics and has continued to pursue floor hockey not only because of the exercise, but also due to the inclusive nature of the team.
For someone with an intellectual disability, the opportunity to live their full potential is one of the greatest benefits of inclusion.
In honour of our 50th anniversary, we're asking you to help ensure Special Olympics continues transforming lives for 50 more years: refer a friend or family member to a Special Olympics program, help raise awareness of our mission and shift the focus from disability to ability, or make a donation today.