Unified Sports Gets the Metro Athletics Treatment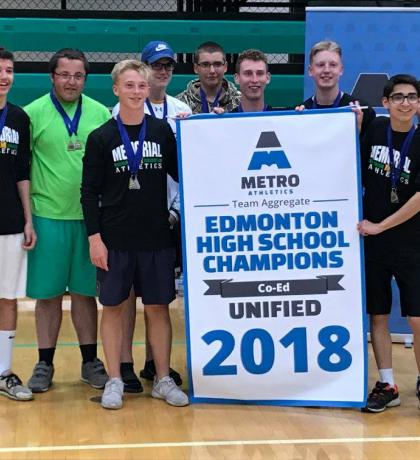 Bean bag toss, basketball, and bocce brought 18 schools and 236 students with and without intellectual disabilities together for an action-packed day of teamwork and inclusion.
Metro Edmonton High School Athletic Association hosted the 2018 Unified Sport Edmonton Jamboree, the first multi-sport Unified event in Alberta, on June 5 at the Saville Community Sport Centre in Edmonton.
Bellerose Composite High School was one of the schools participating in their first ever Unified event and their coach, Jeet Jermana, is expecting it to be the first of many.
"It's a no brainer," said Jermana on Unified Sports. "You have to be involved."
Metro Athletics has been heavily involved in high school sports since 1988 and this year decided to get involved with Unified Sports.
Facilitator of high school athletics, Shawn Shepherd said that Metro Athletics identified that with 54 member schools in their network, having them all participate in Unified Sports would be amazing.
"I LOVE IT, IT IS A GREAT OPPORTUNITY NOT ONLY FOR THOSE STUDENT ATHLETES, BUT THE PARTNERS AS WELL," SAID SHEPHERD. "THEY GET TO BE INVOLVED WITH SOMETHING MEANINGFUL AND HELP OUT BEFORE THEY MOVE ON TO OTHER THINGS. IT GIVES KIDS WITH INTELLECTUAL DISABILITIES A CHANCE TO SHOW THEIR SKILLS IN A WAY THEY DON'T NORMALLY GET TO."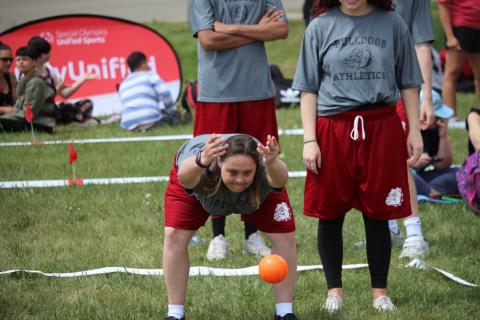 Planning the Jamboree was a unique experience for Shepherd and Metro Athletics, as other events they host like the City Championships have a guideline for how they should be run.
However, being the first Unified Jamboree in Edmonton, Shepherd maintained that the team used a lot of trial-and-error and expects that they will make improvements for next year.
Overall, Shepherd believes the event was a success and that the partners did an incredible job of stepping up and giving the athletes a chance to shine.
"We have heard from schools about it being a great time, it was well organized, and flowed really well," said Shepherd. "A lot of schools didn't participate and we need to find out why – whether it was the time of year, day, or time and understand what the reason was for next year."
Athletes, partners, coaches, and teachers echoed Shepherd's sentiments, especially Archbishop O'Leary Catholic High School who were smiling and playing hard throughout the day.
Unified Coach Laura Berry, athlete Jake Yu, and partner Richard Nganzi all agreed that the day had something for everyone involved."THE EVENT HAS BEEN REALLY FUN SO FAR," SAID NGANZI. "I SEE A LOT OF PEOPLE BEING VERY SPORTSMANLIKE, VERY COMPETITIVE, IT'S A FUN EVENT."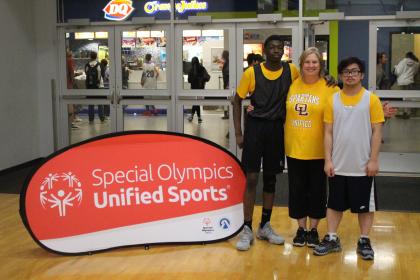 Jake Yu backed up his teammate stating that he really enjoyed playing basketball with new people and that the outcome wasn't what was important.
"It's fun, you get to play with others," said Yu. "When it comes to sports it doesn't matter if you want to be competitive or not competitive, you just have to have fun."
O'Leary has been involved with Unified Sports over the past two years and their Unified team has doubled in size since then. Coach Berry said that opening the tournament to bean bag toss and bocce allowed them to get more students involved.
The school participated in the basketball tournament last year, winning the Sportsmanship award and that same positivity was on display again throughout the day.
"Our kids came and we loved the fact that our athletes were providing opportunities for other kids to be successful, so if they missed a shot they were given another ball to take a shot," said Berry. "I am very proud of that."
Looking ahead, Shepherd and Metro Athletics plans to run the Unified Jamboree again next year.
"I THINK THE MESSAGE SHOULD BE WHY NOT," SAID SHEPHERD. "WHY NOT GIVE ATHLETES A CHANCE TO SHOW WHAT THEY CAN DO AS OPPOSED TO WHAT CAN'T THEY DO. ONE OF THE SCHOOL'S MOTTO IS W.I.N. – 'WHATEVER IS NECESSARY, WHENEVER IS NEEDED,' AND THAT IS AN IMPORTANT MESSAGE."
Their goals include getting more schools involved, increasing the number of participants, and most importantly giving the athletes more exposure and opportunities.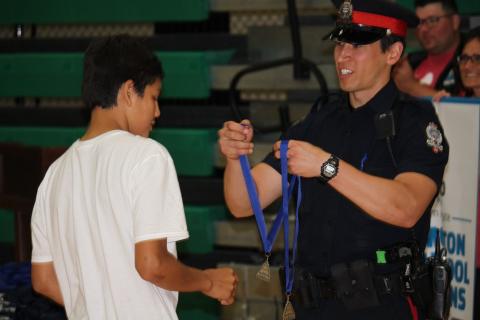 The Unified Jamboree concluded with a closing ceremony and medals were passed out to all participants by law enforcement officers along with CTV's Rob Williams.
Memorial Composite High School and L.Y. Cairns High School / Strathcona High School walked away with banners, as they were both crowned Unified Champions.
RESULTS
BEAN BAG TOSS
1 – L.Y. Cairns / Strathcona 2 – Memorial Composite
BASKETBALL
1 – L.Y. Cairns / Strathcona 2 – Memorial Composite
BOCCE
1 – Memorial Composite 2 – Eastglen
UNIFIED CHAMPIONS
Memorial Composite and L.Y. Cairns / Strathcona
In partnership with the Alberta Schools' Athletic Association (ASAA), Unified Sports continues to grow and spread the message of inclusion throughout the province.
For more information on Unified events or if your school is interested in hosting a Unified event, check out our Unified Sports page.Thank you to all high schools for playing unified and celebrating inclusion through sport:
Archbishop O'Leary Catholic High School, École Alexandre Tache Junior and Senior High School, Bellerose Composite High School, Breton High School, Eastglen High School, Edwin Parr Composite High School, Harry Ainlay High School, L.Y. Cairns High School, Louis St. Laurent Catholic Junior/High School, M.E. LaZerte High School, Memorial Composite High School, Queen Elizabeth Composite High School, Spruce Grove Composite High School, St. John Paul II Catholic School, St. Peter the Apostle Catholic High School, Strathcona High School, and Sturgeon Composite High School